Have you ever considered Russia for a holiday?
South Africans don't need a visa!
For most westerners, Russia is associated with its European cities – Moscow and St. Petersburg. This is the heartland of Russia, and these great and ancient cities often become the focus for most guests.
However, there is much more about Russia, a country that spans eleven time zones, ending less than 85 km from North America.
Within this vast expanse lie the largest freshwater lake in the world, rivers and forests teeming with fish and wildlife, awe inspiring volcanoes, and towering mountains. Russia is the largest country of the Earth, with enormous tracts of land, its natural and cultural heritage waiting to be discovered.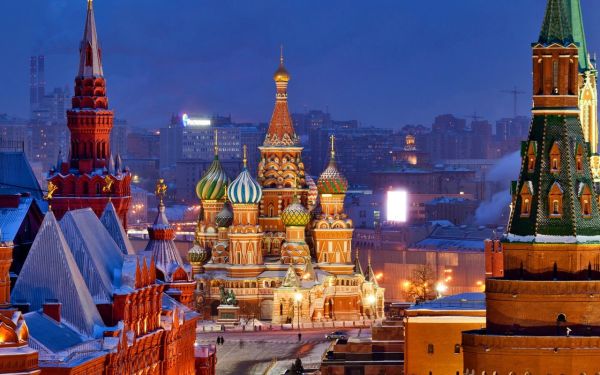 Russia has a formidable pool of recreational resources, including natural landscapes of endless variety and inimitable beauty, monuments of history and cultural heritage, unique engineering structures, and unmatched cities, towns and smaller communities.
The most popular tourist attractions are the old Russian cities of Vladimir, Suzdal, Sergiev Posad, Pereyaslavl Zalessky, Rostov, Uglitch, Yaroslavl and Kostroma, the biggest gems of Russia's Golden Ring. Also high on every tourist's priority list are itineraries by boat from Moscow to St.Petersburg and the Valaam Island, a central point of religious piligrimage, or to Kizhi, the wonderland of old Russian wooden architecture, the Northern Caucasus and the Black Sea coast, to Mount Elbrus, the Ural mountains, and the Altai country, in different natural settings, from the Black Sea coast (like Gelenzhik and Anapa), the Baltic Sea (Sestroretsk, Komarovo, Zelenogorsk, Svetlogorsk, etc.) to the mountains of the Northern Caucasus (Teberda and Dombai), Ural (Kisegatch and Uveldy) and Altai (Chemal).
In the forest steppe and steppe areas, the invigorating nature is supplemented with refreshing koumiss, which is a favourite drink among the vacationers in Bashkortostan (Aksakovo, Yumatovo and Shafranovo).
There is no doubt that the most celebrated among Russian balneological resorts, a craze since the early 19th century to our day, of course, are the Caucasian Spas, a cluster of mineral springs at Yessentuki, Zheleznovodsk, Kislovodsk and Pyatigorsk, with Naltchik a short way off. The most famous among the local springs are Slaviansky, Smirnovsky, Lermontovsky, Batalinsky, the narzan springs of Kislovodsk, and mineral treats No.17 and No.4 at Yessentuki.
With the disintegration of the Soviet Union crime has been rising throughout Russia, however, it is safer here than in many American cities. Precautions include not flaunting valuables, or walking alone at night through city streets or parks.
Source: Russian Tourism
Book Your Trip!
Search and compare cheap flights from thousands of airlines right here, right now!